Here & There News
The urban farm is in the center of the image http://upload.wikimedia.org/.../250px-South_Central_Farm_NASA_1.png
In Los Angeles, the recent eviction of 350 farmers from the 14-acre South Central Farm in Los Angeles after several months of negotiation between the mayor, the Trust for Public Land and Annenberg Foundation, and the property owner has foregrounded Lawson's (2004) contention that community gardening is often delimited as a grassroots initiative separate from the technical expertise of city planning. This posture has resulted in inconsistent support mechanisms, with some cities officially designating community gardens as open space (like Denver and Seattle) and others not. See our previous postings on the urban farm (
Urban land: farming or commercial use? Whose rights?
and
"Neoliberalism at the garden gate"
). View the
farm site
(Google Maps). Also see Wikipedia for
site background
information.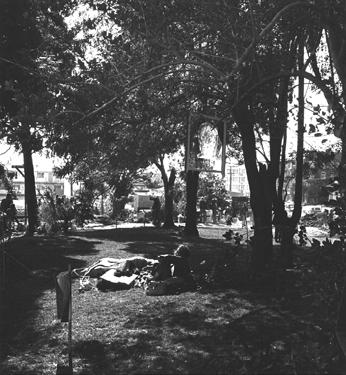 People's Park 1969 http://www.peoplespark.org/trees.JPEG
Earlier this week, UC Berkeley removed an unhealthy oak from People's Park. This was one of several trees slated for removal in a university-led effort to deter crimes. Prior to this action, a
Berkeley Daily Planet

article
discussed communications between the university and the People's Park Community Advisory Board. View a
photo-journal
of the park's history.
2628 Telegraph under construction
The residential development at the corner of Carleton and Telegraph is still under construction, but there is finally a sign telling the public what will be there : The Telegraph-Berkeley at 2628 Telegraph, 15 luxury condominiums, 1-bedrooms starting in the high 300K and 2-bedrooms starting in the mid 400K. The
building elevations
are available online.